Welcome to FMEP's Weekly Settlement Report, covering everything you need to know about Israeli settlement activity this week.
To subscribe to this report, please click here.
August 10, 2023
---
Has Israel Annexed the West Bank?
Make sure to check out the latest episode of FMEP's podcast, "Has Israel Annexed the West Bank," featuring Shira Livne (Association for Civil Rights in Israel) and Kristin McCarthy (FMEP, and author of the Settlement Report!). The two discuss all things annexation, including: how is annexation related to the current judicial reforms? What has annexation looked like previous to the current government? How significant are the changes in governance that the current government has taken? Should we consider the West Bank, or just Area C, annexed?
Peace Now Data: Unprecedented Level of Settlement Growth in 2023
According to Peace Now data, the government of Israel has accelerated settlement growth in 2023 so much so that – only seven months into the year – it has broken several records. The data shows that in 2023, the government of Israel has:
Granted retroactive legalization to 22 outposts

– making them new, authorized settlements, more than in any year previous.

Allowed the establishment of at least five new (illegal) outposts

(not that settlers have attempted to establish many more. Peace Now reports that the IDF has evacuated more outposts this year than it did during an average year in the past, showing how emboldened settlers are acting in the current environment.

Issued tenders for 1,289 new settlement units

– this is more than any year since the signing of the Oslo Accords.

Approved 12,855 new settlement units

– more than in all of 2020 (12,000 settlement units approved).
Israel Says It Will Freeze Part of Nof Zion Expansion Plan, Cites Environmental Concerns
On August, the Israeli state informed the Jerusalem District Court that it has chosen to freeze a plan to relocated a police station from the Jabal al-Mukaber neighborhood, which was planned in order to allow the Nof Zion settlement enclave to expand onto the land where the current/old police station is located. According to the Times of Israel, the state said that it is negotiating with the Ramy Levy – an Israeli entrepreneur who owns the building rights for the land where the current police station is located (Levy owns an empire of settlement superstores) – to build a new police station as part of the massive expansion of the enclave.
The State said its decision was made in consideration of a petition against the new police station submitted by environmental groups concerned that the construction would destroy the area's unique plant ecosystem. Notably, the Israeli NGO Ir Amim also filed a petition against the police station plan, arguing that it is an affront to the planning needs of the local community and that it represents a continuation of Israel's systematic, city-wide discrimination against the housing, educational, and service-based needs of Palestinian neighborhoods.
Settler Violence Coerces Fourth Bedouin Community to Leave Area C Homelands, Handing More Territory to Settlers
On August 6th the al-Qaboun bedouin community was forcibly coerced by IDF harassment and settler violence to abandon their lands east of Ramallah, where they had lived since 1996. The community number 86 people, including 10 children. This is the fourth bedouin community in recent months that has been forced to leave their land because of Israeli pressure.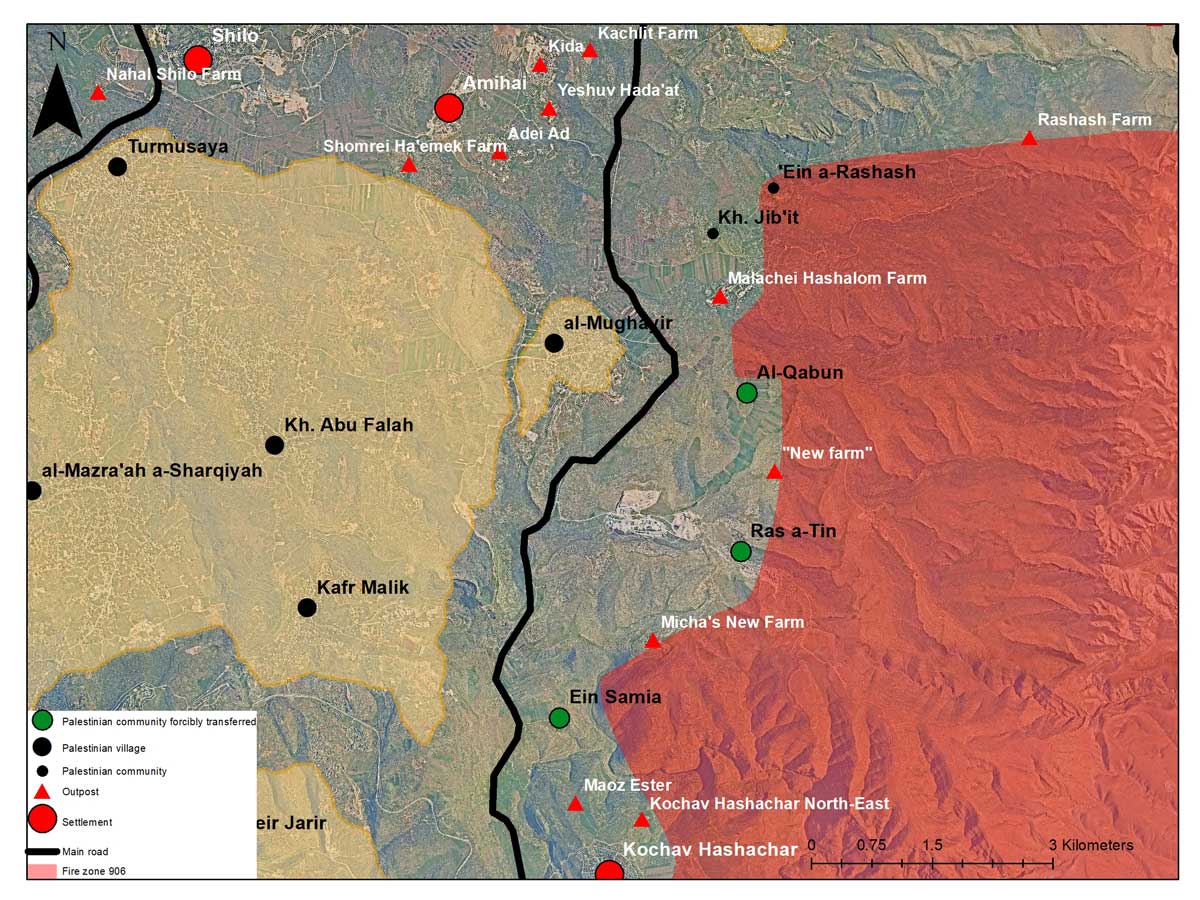 B'Tselem reports that settlers established an outpost near al-Qaboun in February 2023 and have since used violence, harassment, and intimidation to take control of the village's grazing lands – denying the people their livelihood. The Palestinian Centre for Human Rights further reports that the IDF closed all roads leading to the village.
B'Tselem states:
"Al-Qabun is the fourth community in the area that has had to flee due to Israeli policies, which force impossible conditions on local residents in order to push them to leave, thus clearing the way for it to take over their lands and transfer them to Jewish hands. These policies include banning residential and infrastructure construction, including water, electricity and roads; establishing and financially supporting settlements on Palestinian lands; and violent attacks by settlers on an almost daily basis. All of these are aimed at upholding, preserving and empowering Jewish supremacy."
Emboldened Settlers Attack Village of Burqa, Murder Palestinian Teen
On the evening of August 4th, 40-50 armed settlers associated with the Oz Zion outpost attacked the Palestinian village of Burqa – the village that continues to protest the Homesh outpost, which was built on its land. Settlers claim they were "just" grazing their sheep, but they came armed with M-16s, clubs, and pistols, and evidence found near two  two cars that had been set on fire suggest the settlers came to commit arson. As settlers came within 250 meters of homes in the village, two settlers arrived in a car and fired indiscriminately towards a group of Palestinians, killing 19-year-old Palestinian Qosai Jammal Mi'tan and injuring several others. 
It's worth noting that the Oz Zion outpost has been, in the past, repeatedly evacuated by the IDF. Earlier this year, as is his purview as a minister with the Defense Ministry charged with civilian affairs in Area C, Bezalel Smotrich shielded Oz Tzion from being evacuated again.
Two settlers were arrested for involvement, one of which was quickly released to house arrest while the other remained in custody as the primary suspect in firing the deadly shot. The settler who was released despite involvement in the shooting, Elisha Yared, is well known for his violent, extremist views, having previously served as a spokesman for the MK Limor Son Har-Melech (Otzma Yehudit) – and articulated his support for collective punishment in a recent interview with Israel Hayom.
In an absolutely absurd display of the government's unapologetic support for Jewish terrorism, Secruty Minister Itamar Ben-Gvir criticized media coverage of the settler's arrest, saying "A Jew who defends himself and others from murder by Palestinians is not a murder suspect, but a hero who will get full backing from me."Separately, two Knesset members (Zvi Sukkot and X) were given permission by Israeli police to visit Yared in the hospital, celebrating him as a hero. In response, a senior Israeli security source told Al-Monitor:
"This is incredibly outrageous…This is a meeting that could easily lead to evidence tampering and disrupt the police investigation. There was no reason to approve it. This is part of the anarchy that is taking over the rule of law system in Israel."
Elisha Yared lives in the illegal Ramat Migron outpost, an outpost which has been repeatedly demolished by the IDF.
Five Palestinians were also arrested for throwing stones at the invading settlers. All were released after several days in custody.The Palestinian Center for Human Rights reports that so far this year, "settlers have conducted at least 293 attacks against Palestinian civilians and their property. As a result, 9 Palestinians were killed, and dozens of others were injured; most of them due to being beaten and thrown with stones. Also, dozens of houses, vehicles and civilian facilities were set ablaze."
Haaretz journalist Neri Zelber reported that the Israel Army Radio received data from the IDF showing that the first six months of 2023 as already seen more settler attacks than in the entire 2022 year. The IDF data counts 25 terrorist attacks and 680 clashes.
Bonus Reads