Welcome to FMEP's Weekly Settlement Report, covering everything you need to know about Israeli settlement activity this week.
To receive this report via email, please subscribe here.
June 9, 2017
For questions and comments please contact FMEP's Director of Policy & Operations, Kristin McCarthy (kmccarthy@fmep.org).
---
  A New Settlement and Thousands of New Units Approved
During the highly anticipated meeting this week, Israel's High Planning Council approved the advancement of plans for nearly 3,000 new settlement units. The Jerusalem Post, Reuters, and Times of Israel reported the following details:
The brand-new settlement of "Amichai": The Council approved for deposit for public review (one of the last steps before final approval/implementation) plans for 102 homes in "Amichai," which will be the first entirely new Israeli settlement established in the occupied West Bank in the past two decades. This new settlement, it should be recalled, is a pay-off for settlers who previously broke Israel law and built illegally elsewhere in the West Bank (Amona). When the government could find no possible way to legalize that illegal construction it removed the settlers but promised to (more than) compensate them with new "legal" homes elsewhere in the West Bank.
Kerem Reim: The Council granted retroactive approval (by advancing for validation) to 255 units built illegally in the West Bank outpost of "Kerem Reim." In effect, this maneuver legalizes the illegal outpost in the eyes of Israel law (it remains illegal under international law).
Ariel: The Council approved plans for 839 new units.
Ma'aleh Adumim: The Council advanced plans for 603 new units.
Beit El: The Council approved the advancement of plans for 200 new units.
  Bibi Abandons Talk of 'Restraint', Abbas Abandons Demand for 'Freeze'
In addition to the approvals issued by the High Planning Council, several political statements made this week suggest that that status quo on settlements has changed for Israel and for the Palestinian Authority. On the Israeli side, these statements come amidst enormous pressure and disappointment (real or pretended) with the number of settlement plans Netanyahu allowed the High Planning Council to consider earlier in the week.
On June 5th, the Jerusalem Post quoted an anonymous source close to Prime Minister Netanyahu declaring the PM is not restricting settlement to the so-called "settlement blocs," which was a policy position that was reportedly agreed upon by Bibi and President Trump in March.
On June 6th, Netanyahu, in a speech he delivered at celebration of the 50th anniversary of the 1967 Six Day War (when Israeli began its military occupation of Gaza and the West Bank), said, "No one will be uprooted from their home, I'm doing everything to protect the settlement enterprise…We decided to build in all parts of Judea and Samaria and we are building both inside and outside the settlements."
On June 7th, Netanyahu met privately with several disgruntled settlement leaders about the state of settlement construction. Following the meeting, the settlers indicated no three are no immediate, concrete outcomes resulting form the "positive" meeting, but they expressed hope there would be soon.
On June 8th, Bloomberg News reported that Palestinian President Mahmoud Abbas is no longer demanding a settlement freeze as a precondition for resuming peace negotiations. A top Abbas advisor told Bloomberg, "we have not made the settlements an up-front issue this time." This came after Netanyahu's speech promising permanent settlement construction across all of the occupied territories, and after the High Planning Committee's approval of the new Amichai on occupied territory (among other things).
  No Statement [or Outreach] from U.S. State Department
Yesterday, U.S. Department of State Spokeswoman Heather Nauert made the following statement regarding the new settlement announcements:
We are aware of the announcement that the [Israeli] government made about 2,500 units in the West Bank. President Trump has talked about this consistently, and he has said, in his opinion, unrestrained settlement activity does not help advance the peace process. He's been pretty clear about that. It doesn't help the prospect for peace. That is something that the Israeli-Palestinian peace process is important to this administration, and they will keep promoting that.
Ms. Nauert said she is "not sure" if the administration will be releasing an official statement on the settlements (as has been customary following past settlement announcements) and she is "not aware of any diplomatic conversations" between the U.S. and Palestinian President Mahmoud Abbas regarding the report that he is willing to drop a total settlement freeze as a precondition for resuming talks.
  New Settlement Plans in the Works
The settlers' leadership body, known as the Yesha Council, presented plans for 67,000 more settlement units to the Knesset's Interior Committee. A report commissioned by the Yesha Council found that there is "vacant" land between the Karnei Shomron and Ariel settlements able to hold 67,000 units for 340,000 settlers, which is what was subsequently proposed to the Knesset.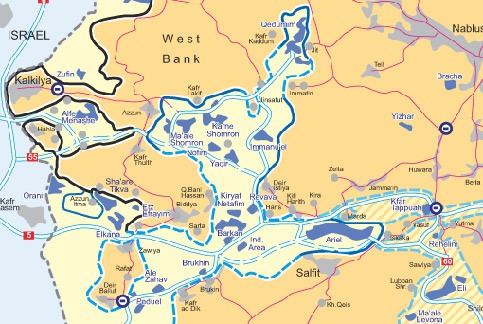 Settlement construction in the area would fortify the territorial linkage between Ariel – a settlement that extends so deep into the West Bank that in no circumstance could it be annexed by Israel if Palestinians are to have a contiguous state – and settlements located closer to the separation barrier and 1967 Green Line. It would further sever Palestinian communities from their land, resources, and important transportation routes to Nablus, Ramallah, and beyond.
  The New Norm: Blatant Walk Towards Annexation
Israeli Justice Minister Ayelet Shaked issued a directive this week requiring all new Israeli laws to explicitly state whether or not they apply to Israeli settlements – and requiring those that do not apply to settlements to explain why. In effect, Shaked's directive makes it a default position to apply Israel law inside the settlements, in contrast to the past 50 years of practice. (Israeli settlers enjoy the full rights and protections of Israeli law; the settlements, which are located in areas over which Israel has not formally extended its sovereignty, operate under Israeli military law). This is a significant move towards outright annexation of the settlements; and some of Shaked's supporters are not shy about saying so. The Times of Israel quotes Jewish Home MK Shuli Moallem-Refaeli saying she "had 'no desire to conceal' the government's intention to annex the West Bank. She added that the process must not be done in a 'backdoor' fashion, but rather openly."
U.S. Ambassador to the United Nations Nikki Haley is reportedly pushing to annul the anti-settlement UN Security Council Resolution 2334, which passed last December, with the Obama administration abstaining. The resolution condemns Israeli settlements, stating that they have no legal validity. The resolution was an important reiteration of the imperative to differentiate between Israel and settlements. Haley is in Israel this week, on the heels of a stern warning she gave the UN Human Rights Council that the U.S. would leave if "Agenda item 7" (which censures Israel for its human rights abuses in the occupied territories) is not removed from their upcoming schedule.